From name tags to custom ribbons, all we want is to celebrate Christmas in style!
While it's all about personal identification 364 days of every year, for one fleeting day it's about socializing and stuffing ourselves full of delicious food. And, this Christmas is no exception!
Here at Coller Industries, we pride ourselves on our high-quality workmanship, our culture of quality and our perfect name tags and ribbons. And, while we like to boast about our less than 0.05% error rate, we also want to boast about our nearly perfect employees.
Ramona, the Marketing and Web Services Manager, said, "It's amazing just how much everything works together. We have such a culture of quality in this company. And, it is so impressive that we are less than a half percent in our error rate."
All in all, Coller Industries strives in every way possible to get each order not only out the door quickly and efficiently, but correctly! And our low error rate proves this, not only to us but to our current and potential customers.
Aimee, the Senior Account Manager, said, "It has been a fun and exciting year getting to know our many customers and I would like to thank all of the employees, everyone from every department for their assistance and support in ensuring the satisfaction of all of our customers."
Having a low error rate increases sales and increased sales translate into happy customers. And with happy customers, Coller Industries remains in business to continue to serve everyone and their personal identification needs!
And, part of this happiness needs to extend to our family here at Coller Industries.
Hannah, the Customer Service Manager, said it best, "What makes Coller Industries stand out, is that it feels more like family than work. We all support each other and care about each other, and I think that is such a big contribution to how well we do as a company. Obviously work is work, but it is so much easier to do when everyone you work with is a friend, and everyone cares about each other. I think that is part of what keeps us so motivated to do well."
Our annual tradition of the Christmas party includes a giant luncheon hosted and catered at a local hotel. This year's meal included prime rib, chicken, salmon, asparagus and other sides for a feast fit for a king. There were also delicious appetizers of crackers and spinach dip with prosciutto wrapped asparagus.
Vance, the Design Manager, said, "I enjoyed the appetizers, I was nearly full by the time the main meal was starting. And I liked that this year's party was smaller, with only the one guest it made the party feel more about our accomplishments as a group than a meal with families."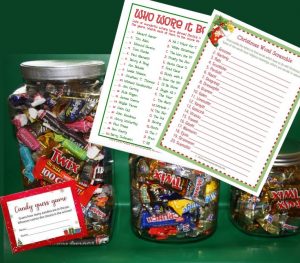 We also played games and gave out prizes for raffles. From a holiday word scramble to trying to remember who had played the jolly man in red, the games were a blast and the presents even better.
And, every year each employee receives a personalized gift from Coller Industries. This year was a water bottle decorated with the CI logo which was full of candy. We also got a custom embroidered jacket with the CI logo.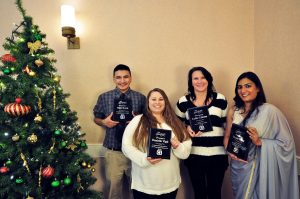 This year we also had a special treat and recognized the hard work of several employees. From perfect attendance to most efficient, each of these employees received one of our new custom plaques engraved with their specific talent and name.
Here are more thoughts from several employees about our fabulous annual Christmas party:
Crystal (Shipping Clerk) "Everything about the party this year was just so amazing and fun. I wouldn't have changed anything. And, I really like how plaques were given out for employee appreciation."
Mathew (Web Design / Development) "The people and environment are the best part about the annual party. It is a nice casual setting where we can enjoy one another's company and socialize."
Leslie (Shipping Clerk) "My favorite thing about the Christmas party was getting together with all of the employees and just having fun."
Charles (Sample Requests) "I always enjoy the company of my coworkers as we are also friends. And it isn't very often that we get to chat and hang out throughout a workday."
We just want to say thank you to everyone who works for Coller Industries. We wouldn't be where we are today if it wasn't for our wonderful employees. And, to all of our customers, have a Merry Christmas and a happy holiday season!