Customers are our top priority and we show this by keeping our error rate low.
Here at Coller Industries Incorporated, we pride ourselves in our customer service expertise. Not only do we have a great team of Customer Service Representatives, but our team members from Production and Shipping are also here to provide quality and accuracy with all of our products. Part of what makes us so great is our ability to keep our error rate so low.
Here's a quick review of our current year-to-date statistics:
Our overall error rate is 0.265%. This means that 1 in about every 400 orders may contain an error; great news for our customers!
Since January 1, 2016 we have had a total of 20 errors coming from 7551 orders total. And, to top that, 8 out of those 12 weeks have had 1 or fewer errors; more great news for our customers!
If we have 3 or fewer errors as a company during a one week period the company provides a "

Free Lunch Friday

." If we have less than 8 errors in any 4 week period Coller Industries treats the entire company to lunch out at a local restaurant.
Not only are these benefits for the employees here at Coller Industries, but with these incentives to keep us going, our customers get to enjoy the satisfaction of doing business with an outstanding company. Having a low error rate increases sales and increased sales translate into happy customers. And with happy customers, Coller Industries remains in business to continue to serve everyone and their personal identification needs!
"Throughout each step of any and every project there is a double checking process that takes place. Everything hinges on getting the order checked completely and thoroughly before it gets out of customer service and into production," says Aimee, our Customer Service Manager.
She goes on to explain the process that our customer service representatives take with each order.
COLLER INDUSTRIES' ORDER REVIEW PROCESS:
Orders are received by a Customer Service Representative and our Design Team makes a proof of the product.
The order is sent to Quality Control for confirmation (meaning that the proof matches the invoice).
The order is received into Production and is confirmed using an internal check sheet form.
The order is then sent from Production to Assembly and is again compared using the same check list.
The order is sent to Shipping and once more checked for accuracy before being sealed and shipped.
Once an order is received and goes into our internal system, it is checked on a consistent basis so that it remains correct and matches the original order placed. This means checking the invoice against the production page and finally against the actual, finished product. This process is followed for all orders received here at Coller Industries.
If anything changes, or an error occurs, during this checking process, the whole order is re-evaluated. We are also in continual contact with each of our customers throughout the entire order process to make sure that we are meeting exactly what they ordered and what they are expecting.
"I've tried to instill the mantra that each order is wrong until you prove it right," explains Pat, our Production and Shipping Manager. "We are constantly, consistently and objectively checking each order," he states. No assumptions are made that the order is correct, and as each order has 10 to 15 variables to it, meticulous checking is a must. "The people working here are a big part of the reason why this system works so well," Pat says proudly.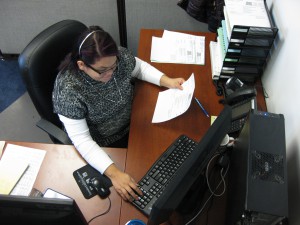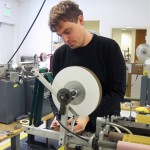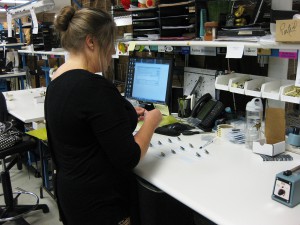 From our customer service representatives and our design team to our production and shipping team, the review process of each order is extensive and takes extreme concentration. We, as company, put all available resources we have into each and every order. And we always keep our customers involved in all processes and steps of every order so as to maintain our low error rate.
In the event that something does go wrong (we admit that we're human and not perfect), there is always something that can be done to fix the problem, and most of these are typically corrected by the next business day.
"No matter the error, we always work with each customer in getting out a replacement as quickly as possible," explains Slim, our Quality Control Supervisor. "We will always accommodate each order in whatever way we can," Slim says.
Our Reorder Program
A key point to maintaining such a low error rate is our reorder program.
Once an initial order is received from a customer, our customer management system (we call it MOM for short) holds onto the design information to reduce the risk of errors. All layout information is saved so that we can recreate an original order exactly. Once in the reorder program, a customer can actually see a visual proof of any original design from the orders they have previously placed with Coller Industries so that they know exactly what they are getting when they place their reorder. This program eliminates any guess work on the customer's end, and on our end, as to what the customer really wants.
Rod, one of our programmers, explains, "The customer does not have to guess which layout they want as they can see a picture and know for sure which item they are selecting. We have made entering or uploading a list about as easy as it gets; the count of items for the order is taken from the list thus making the quote we provide fairly accurate. All of this adds up to a reorder that can be entered in a manner of minutes with little to no hassle."
"Before the new system, there was a lot of back and forth with customers to be sure the correct layout was used. Now (with the new program) the customer sees a picture of the product they are ordering from the start," states Traci, Quality Control and Customer Service Representative.
With the automation of this reorder system, errors are kept at an all time low. "This has greatly reduced the order and list issues we have seen in the past," says Traci.
Gary Coller, President of Coller Industries, states, "Efforts have been made to prevent many, if not all, errors from occurring. We also take the time to figure out why an error has actually happened when they do occur." Gary credits the low error rate to our 5 Stage Checking and to the employee incentive program.
"Most importantly, we always take responsibility for our mistakes and no matter
what happens, we will make it right," says Gary.
All in all, Coller Industries strives in every way possible to get each order not only out the door quickly and efficiently, but correctly! And our low error rate only proves this, not only to us but to our current and potential customers.