Coller Industries enjoys spoiling their employees! And we all love accepting it, especially at the annual Christmas party!
Now, don't get us wrong. We care about our customers too. And part of that caring means that we are always giving back to our clients and our local community. But, it also means that we are regularly returning benefits to our employees and trying to make work as fun (and productive) as possible.
So, every year Coller Industries invites all the staff and their families to an annual Christmas party. This event includes lunch, games, presents and wonderful conversations! And this year, we had a special treat of local juggler Marcus Wilson.
Marcus, Funny Man Who Does Tricks
(Marcus found out long ago) that as long as he was on stage people seemed to enjoy his obnoxious antics. In high school, while working at a restaurant, he learned to juggle with rolls and oranges and fell in love with useless tricks and odd skills. At the age of 22, armed with a handful of these tricks and a desire to entertain, he began doing shows. About five years later, he began performing in comedy clubs. Since then, he has been making his living performing.
As per tradition, the Red Lion Hotel in Salt Lake City hosted the Christmas party. This has been a favorite venue for our annual party for many years. The hotel had an excellent buffet of food for lunch including prime rib and salmon for the adults and macaroni and cheese with chicken fingers for the youngsters. And don't forget the desserts: cheesecake, chocolate cake and pumpkin pie were all there!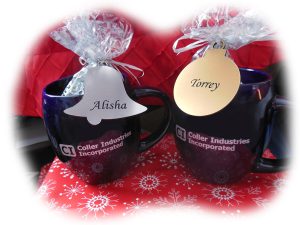 Each year Coller Industries also provides an employee Christmas gift that always manages to contain a name tag! Because, well, we just love name tags! This year all the adults received mugs with our logo on them and a name tag in the shape of either a bell or a tree ornament. Each mug had a handful of candy included. And all the kids who were there received a present chosen just for them.
As employees, we would like to give a special thank you to Coller Industries.
And especially the Coller family and our office manager, Eboni, for providing such an enjoyable activity for their employees. And here's how we say that thank you!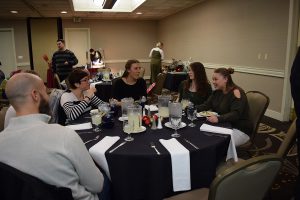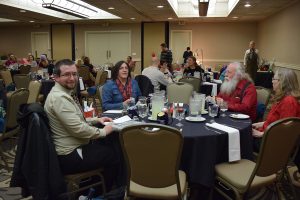 Danielle (Customer Service): "I've never worked for a company that has had a party before. So, this year was great, and I really enjoyed it!"
Ivan (Machine Operator): "I got to spend the time with co-worker and family. It was one of the best parties I've ever been to."
Kylie (Shipping Clerk): "It was different from previous years, and I really liked that we didn't do the same thing as before."
Ramona (Marketing Manager): "The people we work with are such a great group, and it was fun to spend time together outside of work."