From the noise of machines to the buzz of a social activity, summer is definitely more fun in the sun.
Mondays through Fridays in the Coller Industries building are always noisy. From the ticking of keyboards in marketing to phone calls about orders in customer service, the noise is constant. And the loudest place of all is production and shipping. With the laser machines going full strength and the packing tape being stretched out to wrap each shipment securely, each employee is focused on one thing: our customers.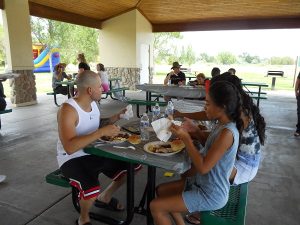 Last Saturday however, brought a different type of noise. From the creaking of plastic under bare feet in the bounce house to the gentle murmur of a crowd while they attempted to socialize while eating delicious barbecue, Coller Industries' employees created a unique sound at the annual company barbecue get-together.
As always, the bounce house was a hit with the kids. And someone brought water guns for the kids to play with as well. While the adults chatted away, the kids ran around chasing each other, and everyone had a blast!
The food was just as fantastic as the fun!
Joe Morely's Bar-B-Q pulled it off again this year. With spare ribs, two types of sliced meat smothered in barbecue sauce, potato salad, macaroni and cheese, baked beans and rolls, the spread was amazing. To finish off the meal was a giant apple pie and a couple of strawberry cheesecakes. Oh, and cookies for the kids who were still chasing each other with the water guns!
While the noise of the office is anything but mundane, it's always nice to be out with colleagues and to have the variety of the outdoors and social conversations. We want to say thank you to Coller Industries for providing such a wonderful event for their employees. The company works just as hard at keeping their employees happy as the employees do for the customers.
And, here's some noise from those busy employees: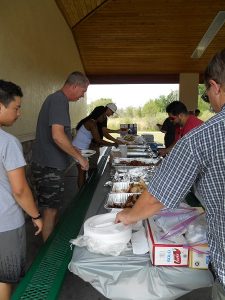 CreelaBelle, Content Writer, said, "I like that we have fun and do things together as a company, but we also try to do our best and make customers happy. It's the best of both worlds."
Patrick, Production and Shipping Manager, said, "This was our best barbecue yet! And, having the bounce house was great for the kids. My daughter loved it. But, by far my favorite part of working at Coller Industries is all the cool people I work with."
Hannah, Customer Service Manager, said, "Even though the free food is always a plus, it's great to see everyone in a relaxed environment and see all the kids. We have such a great group of employees, and it feels more like we're friends than coworkers."