With a vast knowledge of the industry and writing skills that surpass expectations, our writers strive to excel in providing the information you want and need. They know their stuff, from using custom ribbon rolls at a wedding to designing a custom top ribbon. And now, you can get to know them too.
So, say hello to our writers.
---
Alisha Copfer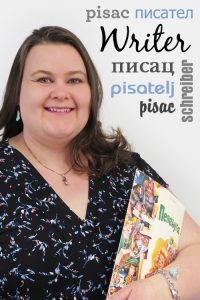 Although she has been around the world, Alisha is a true Utahn. She received her Bachelor of Arts in Print Journalism with a minor in English (she knows her stuff) from The University of Maine in June 2007. Alisha is socially active on Facebook, Pinterest, Twitter, Instagram and LinkedIn. She also speaks several languages, including English, German and Croatian.
Three newspapers, two magazines and dozens of blogs are only the beginning when it comes to Alisha's writing. She has been writing most of her life. One of her milestones is receiving multiple awards for her poetry and having them published in poetry journals. In addition, she has worked in many communities and has written several news beats. And, to top it all off, Alisha has recently added editor and marketing specialist to her list of accomplishments.
Publications and Periodicals
The Maine Campus; Orono, Maine
Mu Epsilon chapter of Lambda Pi Eta (Honor Society); Orono, Maine
The Scotsman Pennysaver; Syracuse, New York
The Goodnews Paper/Magazine; Camillus, New York
Table Hopping Magazine; Syracuse, New York
The Valley Journals; South Jordan, Utah
Bear Bottom Mining; Kaysville, Utah
Morgan County News; Morgan, Utah
The Davis Journal; Bountiful, Utah
Coller Industries Incorporated; Salt Lake City, Utah
Alisha's Writings that Inspire
Alisha started at Coller Industries Incorporated by writing web content and helping with everyone's word needs. She is now the Digital Media Manager and chief writer for all three of Coller Industries' blogs. Name tags, personalized ribbons and custom identification have become her life. She is happy to help meet customers' creative needs. This provides an ever growing learning experience for those who want to know more about personal identification.
---
Joemari Bagalacsa Erasga
From enjoying playing sports like basketball, tennis and table tennis to always having had a love of listening and playing music, Joemari enjoys many hobbies. Ukulele, guitar and singing are some of his favorite ways to express himself musically. On the other hand, Joemari has found a career in digital marketing. From content writing to social media marketing, he has come to love the marketing world.
Joemari graduated from Brigham Young University-Idaho in July 2022 with a Bachelor of Arts in Interdisciplinary Studies emphasizing Visual Communication and Business Management. To start his career, he's done several content writing and marketing internships. In addition, he has also completed multiple certifications and programs to solidify his role in the digital marketing world.
Internships and Publications
Marketing Intern, Outbrand Marketing
SEO Specialist Intern, Research Business and Development Center BYU-I
Joemari's Ongoing Creativity
---
Other Contributors
CreelaBelle Howard is a California girl transplanted into Utah who received her Bachelor of Arts in Communications at Brigham Young University in April 2017. She is socially active on Facebook, Twitter and Instagram. In addition to writing web content, she wrote and scheduled company newsletters and marketing emails. She enjoys the creative and problem solving aspects of creating emails that are personal and relevant to each targeted audience.
---
COMPLETE YOUR LEARNING EXPERIENCE
Each of our blogs contains information about our name tags, ribbons, etc. and how to use them. Find and learn even more by browsing topics and products that are presented in ways you many not have before considered.