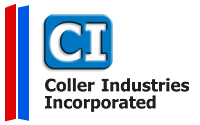 Name Tag, Inc. is a growing part of Coller Industries Incorporated. We have been making quality name tags and ribbons since 1995. Coller Industries is the parent company of Personalized Ribbons, a nationwide seller of personalized ribbon related products, as well. With over 15 years of experience in the personal identification industry, Coller Industries is your one-stop destination for everything identification related.
Clyde Coller, the founder and CEO, started the business in his basement as a part time retirement venture, and while the business has grown tremendously, Clyde has never forgotten the recipe for success: unmatched customer service. This principle is one that is instilled into every employee.
"We emphasize the importance of customer service from the first day of training new employees. Every time a customer receives an order that is not exactly what they ordered, everyone involved with that order meets and discusses ways to avoid the same problem in the future. And though we may not always get every single order correct, what we can control is how we treat our customers and what we will do to make things right. If you trust us to handle your personal identification needs, we'll be sure that you walk away completely satisfied."
So, whether you're ordering a name tag, name plate, lanyard or personalized ribbons, when you do business with Coller Industries, you know you'll receive the same level of high quality products, fair prices and quality customer service.